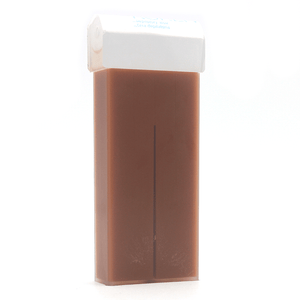 Liposoluble waxes, semi-solid at room temperature, but easily liquefiable in the heating-applicator apparatus.
Their composition (rosin derivatives) gives them a texture that adheres to the hair but does not dry out. Their advantages are: their low temperature (ideal for heat-sensitive skin), hygiene (single use) and convenience and ease of application (thanks to the built-in roll-on).
Chocogold:
The beneficial properties of chocolate have been known for thousands of years, its toning and moisturising action is here reinforced providing perfect hair removal and maximum respect for the skin.