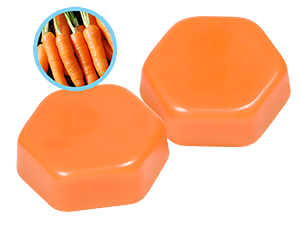 Liposoluble waxes solid at room temperature, but with a very low melting point that allows a greater number of recycling without losing their excellent depilatory properties.
Mainly formulated with rosin (derived from pine resin) and beeswax, their high content of beeswax gives them a high elasticity that allows them to be worked in thin layers without the risk of cracking, while providing a softer pulling action, reducing the painful sensation of hair removal.
Carotene:
This wax contains a double molecule of vitamin A, which gives it a high regenerating and repairing power. It also contains vitamin E with antioxidant and protective action, which is very important to minimise the harmful effects of solar radiation, especially on recently depilated skin.
This wax is suitable for use on all skin types, especially sensitive skin, at any time of the year, but is essential during the summer.
Orange-coloured and with a pleasant carrot aroma. Does not contain titanium dioxide.