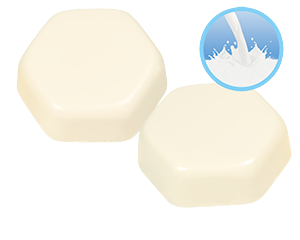 Liposoluble waxes solid at room temperature, but with a very low melting point that allows a greater number of recycling without losing their excellent depilatory properties.
Mainly formulated with rosin (derived from pine resin) and beeswax, their high beeswax content gives them a high elasticity that allows them to be worked in thin layers without the risk of cracking, while providing a softer pulling action, reducing the painful sensation of hair removal.
Milk:
Paste wax, with milk proteins as the main component.
It is aimed at those sensitive skins that require special protection and hydration during depilation.
Its reepitalising and protective properties of the skin, as well as its total white colour and its soft aroma, make depilation a pleasant way to keep the skin healthy.