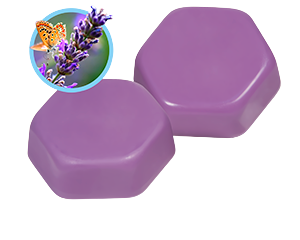 Liposoluble waxes solid at room temperature, but with a very low melting point that allows a greater number of recycling without losing their excellent depilatory properties.
Mainly formulated with rosin (derived from pine resin) and beeswax, their high content of beeswax gives them a great elasticity that allows them to be worked in thin layers without the risk of cracking, while at the same time they provide a softer pulling action, reducing the sensation of pain during hair removal.
Violet:
Wax with a high content of natural beeswax and Lavender oil with properties highly appreciated in aromatherapy.
It can be worked in thin layers, making the removal gentler and less painful.